Welcome to KringleCon 2¶
by Salaheldin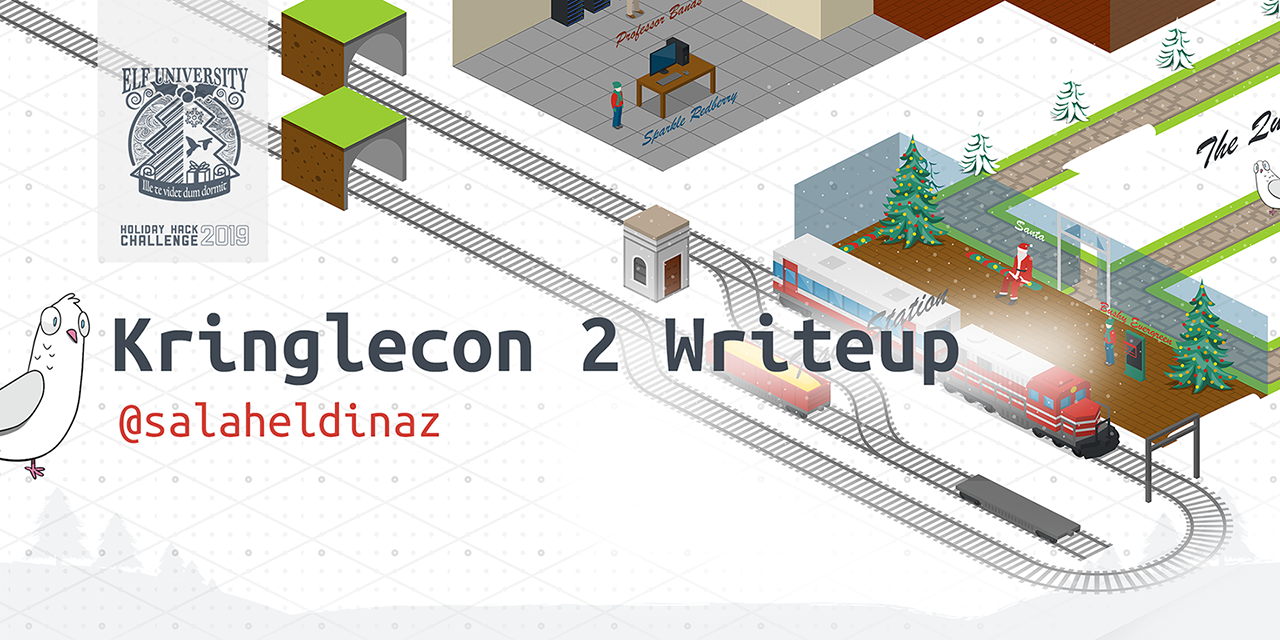 ---
✨ Let's travel!¶
Go to the ticket shop and buy you exclusive pass ticket for the event at the North Pole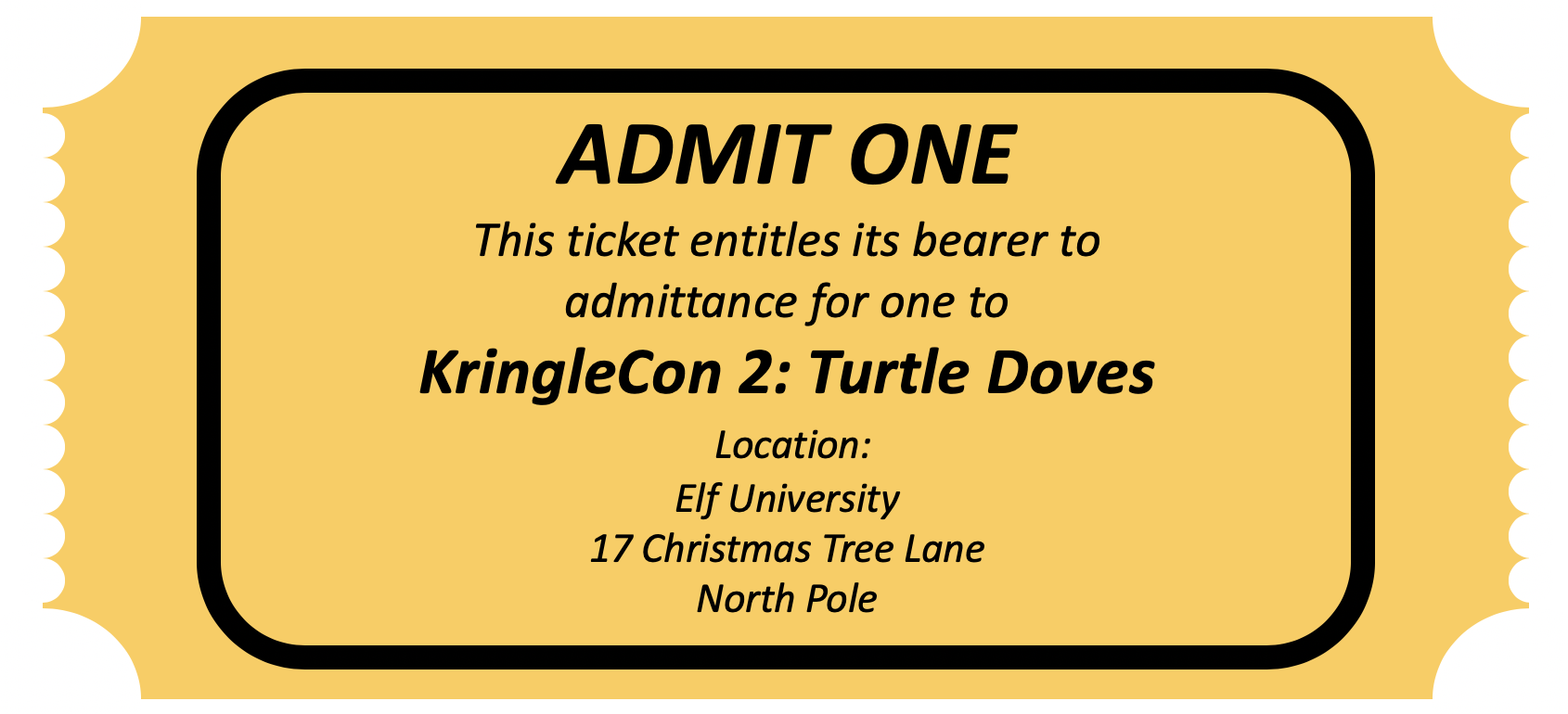 After arriving at the North Pole station, you will find Santa waiting for you there.
🎅 Santa Welcome You!
Welcome to the North Pole and KringleCon 2!
Last year, KringleCon hosted over 17,500 attendees and my castle got a little crowded. We moved the event to Elf University (Elf U for short), the North Pole's largest venue.
Please feel free to explore, watch talks, and enjoy the con!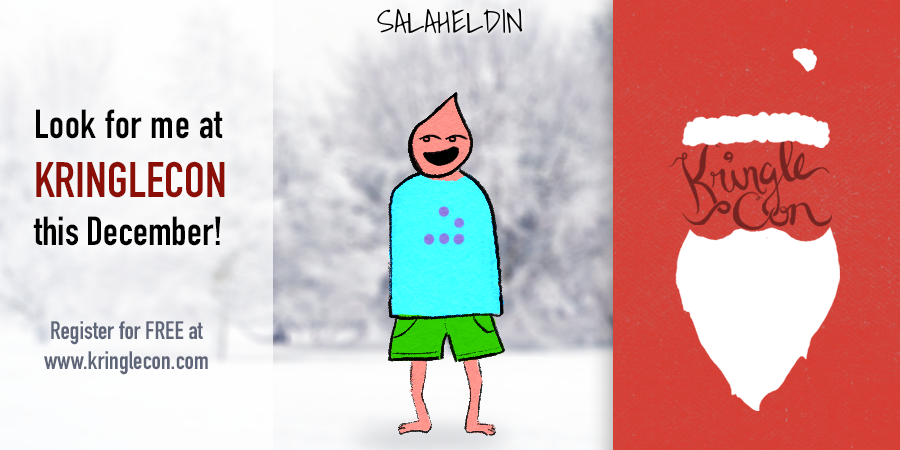 ---
🗺 Map¶
This a preview of a very high quality map for ELF University.
To zoom and check the details please download the full quality. click here:¶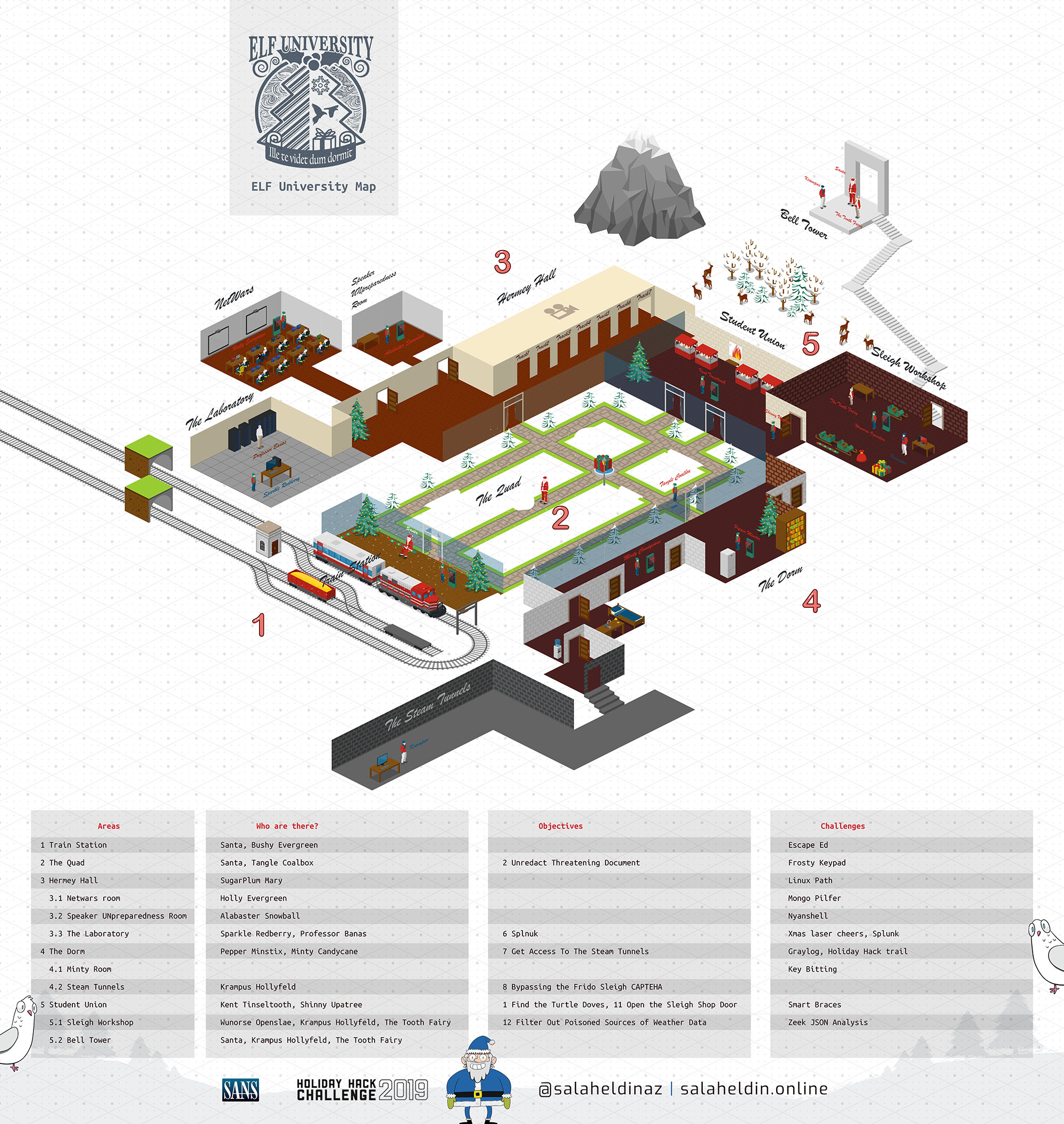 ---
🏵 Objectives¶
Check the objectives in your badge, You will have the 6 objectives then unlock new objective by talking to the elves you find in the university:
---
🎗Helping the elves Challenges¶
As we walk around, we can find various challenges, and as we talk to the elves standing near them, we get some hints.
---
📟 The Answers¶
1. Find the Turtle Doves?
At the fire in the student union
2. Unredact Threatening Document
DEMAND
3. Windows Log Analysis: Evaluate Attack Outcome
supatree
4. Windows Log Analysis: Determine Attacker Technique
ntdsutil
5. Windows Log Analysis: Determine Compromised System
192.168.134.130
6. Splunk
Kent you are so unfair. And we were going to make you the king of the Winter Carnival.
7. Get Access To The Steam Tunnels
Krampus Hollyfeld
8. Bypassing the Frido Sleigh CAPTEHA
8Ia8LiZEwvyZr2WO
9. Retrieve Scraps of Paper from Server
super sled-o-matic
10. Recover Cleartext Document
Machine Learning Sleigh Route Finder
11. Open the Sleigh Shop Door
The Tooth Fairy
12. Filter Out Poisoned Sources of Weather Data
0807198508261964
---
🏆 The END¶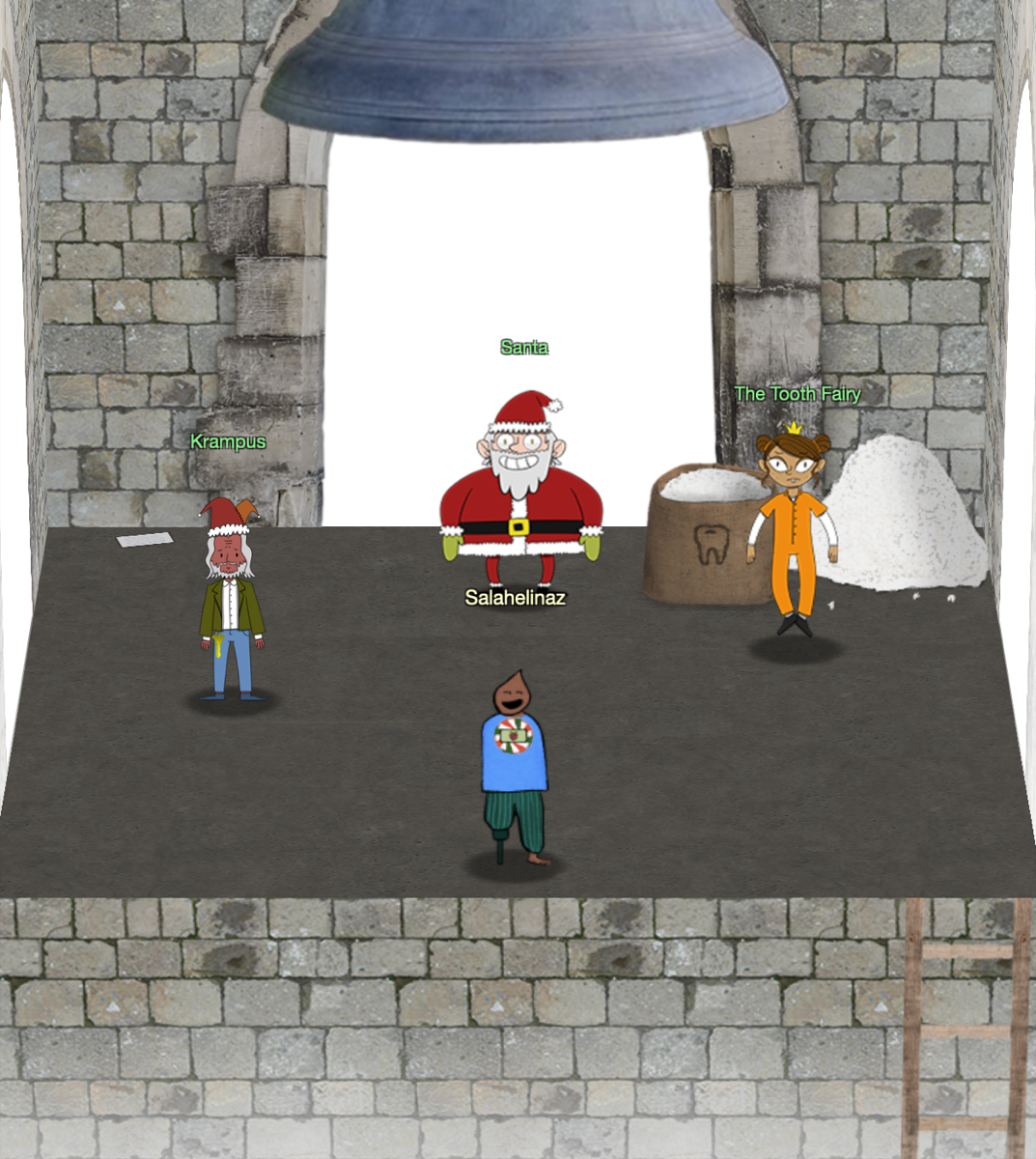 Go to the Bell Tower after last objective:
🎅 Santa!
You did it! Thank you! You uncovered the sinister plot to destroy the holiday season!
Through your diligent efforts, we've brought the Tooth Fairy to justice and saved the holidays!
Ho Ho Ho!
The more I laugh, the more I fill with glee.
And the more the glee,
The more I'm a merrier me!
Merry Christmas and Happy Holidays.
🧝🏻‍♂️ Krampus Hollyfeld
ongratulations on a job well done!
Oh, by the way, I won the Frido Sleigh contest.
I got 31.8% of the prizes, though I'll have to figure that out.
🧚🏻‍‍ The Tooth Fairy
You foiled my dastardly plan! I'm ruined!
And I would have gotten away with it too, if it weren't for you meddling kids!
Look in the corner you will find a letter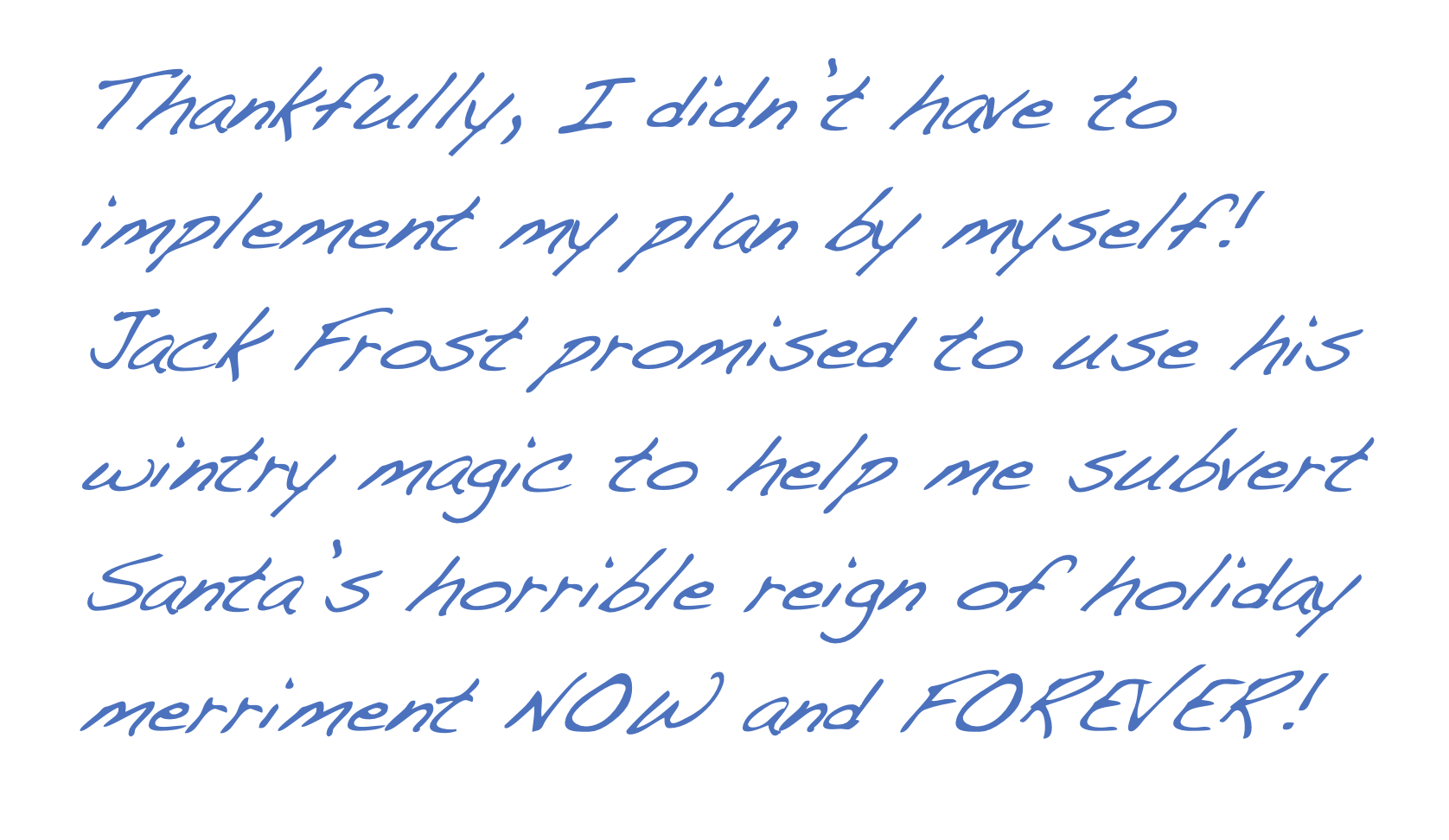 Jack Frost!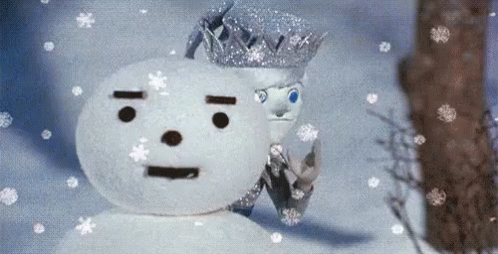 ---
⚡️ Extra¶
Easter Eggs¶
In Santa's Naughty List: Holiday Themed Social Engineering talk by snow

We see a phone number 📞 605-313-4000 and if you call the number you hear Santa's Hotline!

Also the website northpolelnc.com with l instead of i lead to Snow's twitter account.
---
Kringlcon twitter list¶
Here a list of Kringlecon team and speakers to follow on twitter:
https://twitter.com/i/lists/1216115053642100737?s=20
---
Speakers¶
John Strand, Keynote: A Hunting We Must Go
Katie Knowles, How to (Holiday) Hack It: Tips for Crushing CTFs & Pwning Pentests
Snow, Santa's Naughty List: Holiday Themed Social Engineering
James Brodsky, Dashing Through the Logs
Ron Bowes, Reversing Crypto the Easy Way
Chris Elgee, Web Apps: A Trailhead
Chris Davis, Machine Learning Use Cases for Cybersecurity
Deviant Ollam, Optical Decoding of Keys
Dave Kennedy, Telling Stories from the North Pole
Mark Baggett, Logs? Where we're going we don't need logs.
Heather Mahalik, When Malware Goes Mobile, Quick Detection is Critical
John Hammond, 5 Steps to Build and Lead a Team of Holly Jolly Hackers
Lesley Carhart, Over 90,000: Ups and Downs of my InfoSec Twitter Journey
Talks videos¶
https://www.youtube.com/playlist?list=PLjLd1hNA7YVzyhhqBQaW-tF45xnS6oHAP
---
Credit¶
Credit

SANS Holiday Hack Challenge 2019 KringleCon 2: Turtle Doves

Direction

Technical Lead

Narrative / Story

World Builder Lead

Programming

Evan Booth
Ron Bowes
Chris Davis
Chris Elgee
Matt Toussain
Joshua Wright

System Builds & Administration

Tom Hessman
Daniel Pendolino

Artwork

Evan Booth
Chris Davis
Chris Elgee
Kimberly Elliott
Brian Hostetler
Annie Royal
Ed Skoudis

Challenge Development

Jim Apger
Evan Booth
Ron Bowes
James Brodsky
Gary Burgett
Andy Cooper
Chris Davis
Chris Elgee
Tim Frazier
Dave Herrald
Ryan Kovar
Marcus Laferrera
Brett Leaver
Lily Lee
Devian Ollam
Daniel Pendolino
John Stoner
Matt Toussain
David Veuve
Robert Wagner
Joshua Wright

Soundtrack

Dual Core
Ninjula
Josh Skoudis

Website Design

Conference Scheduler and Speaker Wrangler

Testing and Feedback

Ron Bowes
Chris Elgee
Tom Hessman
Brian Hostetler
Ryan Huffer
Daniel Pendolino
Lynn Schifano
Ed Skoudis
Joshua Wright

KringleCon Speakers

Ed Skoudis - Host
John Strand - Keynote
Mark Baggett
Ron Bowes
James Brodsky
Lesley Carhart
Ian Coldwater
Chris Davis
Chris Elgee
John Hammond
Dave Kennedy
Katie Knowles
Heather Mahalik
Deviant Ollam
Sn0w

Marketing

Sponsored Hosting Services

Special Thanks

© Copyright SANS Institute, 2019. All Rights Reserved.
---
Narrative¶
Narrative

Whose grounds these are, I think I know

His home is in the North Pole though

He will not mind me traipsing here

To watch his students learn and grow

Some other folk might stop and sneer

"Two turtle doves, this man did rear?"

I'll find the birds, come push or shove

Objectives given: I'll soon clear

Upon discov'ring each white dove,

The subject of much campus love,

I find the challenges are more

Than one can count on woolen glove.

Who wandered thus through closet door?

Ho ho, what's this? What strange boudoir!

Things here cannot be what they seem

That portal's more than clothing store.

Who enters contests by the ream

And lives in tunnels meant for steam?

This Krampus bloke seems rather strange

And yet I must now join his team...

Despite this fellow's funk and mange

My fate, I think, he's bound to change.

What is this contest all about?

His victory I shall arrange!

To arms, my friends! Do scream and shout!

Some villain targets Santa's route!

What scum - what filth would seek to end

Kris Kringle's journey while he's out?

Surprised, I am, but "shock" may tend

To overstate and condescend.

'Tis little more than plot reveal

That fairies often do extend

And yet, despite her jealous zeal,

My skills did win, my hacking heal!

No dental dealer can so keep

Our red-clad hero in ordeal!

This Christmas must now fall asleep,

But next year comes, and troubles creep.

And Jack Frost hasn't made a peep,

And Jack Frost hasn't made a peep...
---
Resources¶
Virtual Machines I used:
Recording terminal:
---